Be Involved in your Art
I love working with people to create the art of their dreams. Every commission is handled with the same respect, regardless of the content. By providing a revision stage, I never leave you hanging.
Peace of Mind
I strive to make my commission process as transparent as possible. My queue is completely public, with work in progress shots updated weekdaily. I also send out a weekly email to every current client with updates on my progress.
See What Past Clients Say
I value each and every comment on my work and the commission experience, whether positive or negative.  I think my work speaks for itself, but in the words of LeVar Burton "you don't have to take my word for it!"
Ready to get your own DragonMelde Art?
Please read my Terms of Service before inquiring about a commission.
The prices listed below are to be used as guidelines. Email or use my Commission Request Form for a specific price quote for your project
Click an image to jump to the commission type
All prices are for digital media illustrations.
Illustrations come standard at 8.5×11″ at 600dpi. Please let me know in advance if you need a different size or would like printing.
Digital illustrations do NOT include printing and shipping. Add 8.5×11 printing for $10
Complex characters may incur an additional fee. Ex: Large wings, detailed markings, multiple limbs, cybernetics.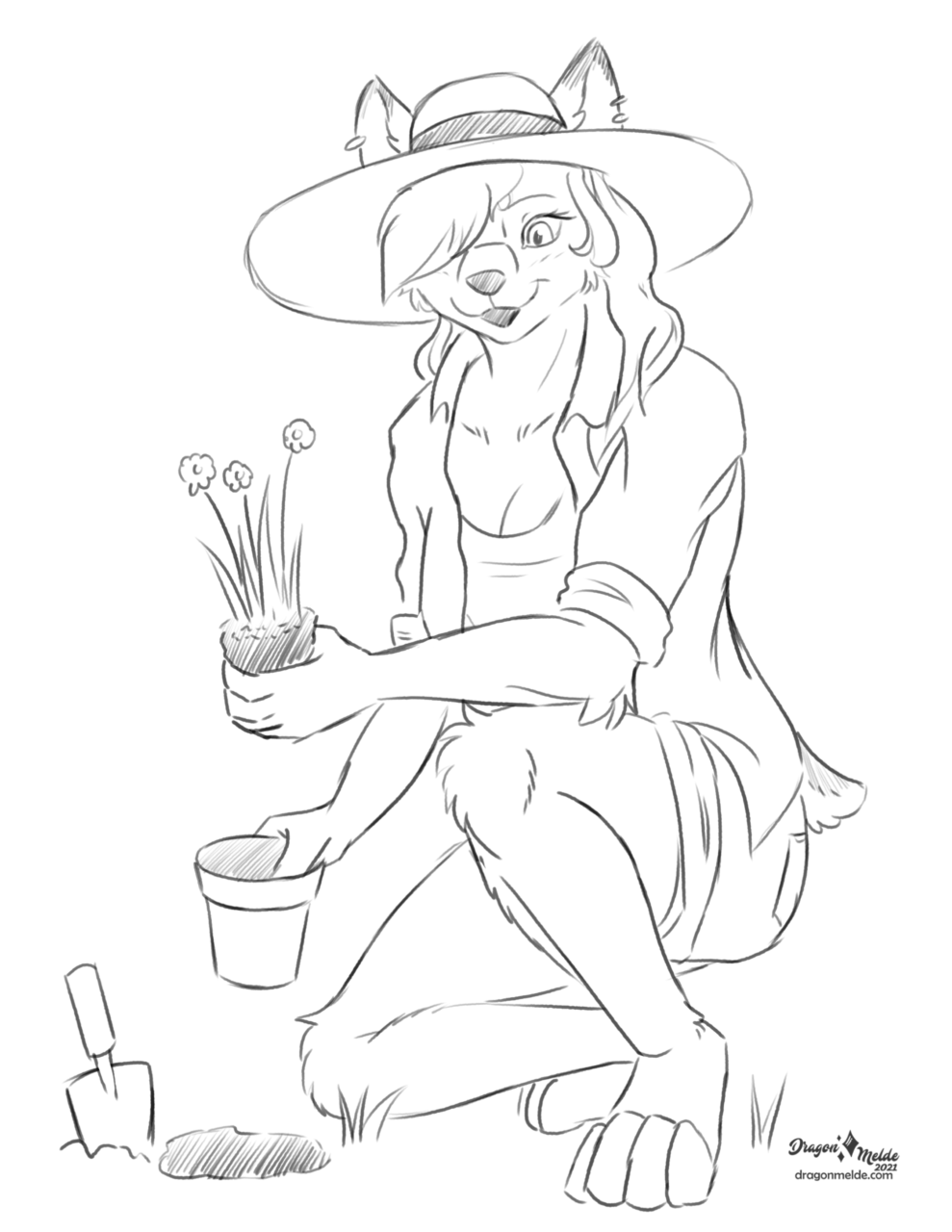 Sketches
Starting at $85
A good option for those on a budget. Does not include shading or color!
+$75 each additional character
No Backgrounds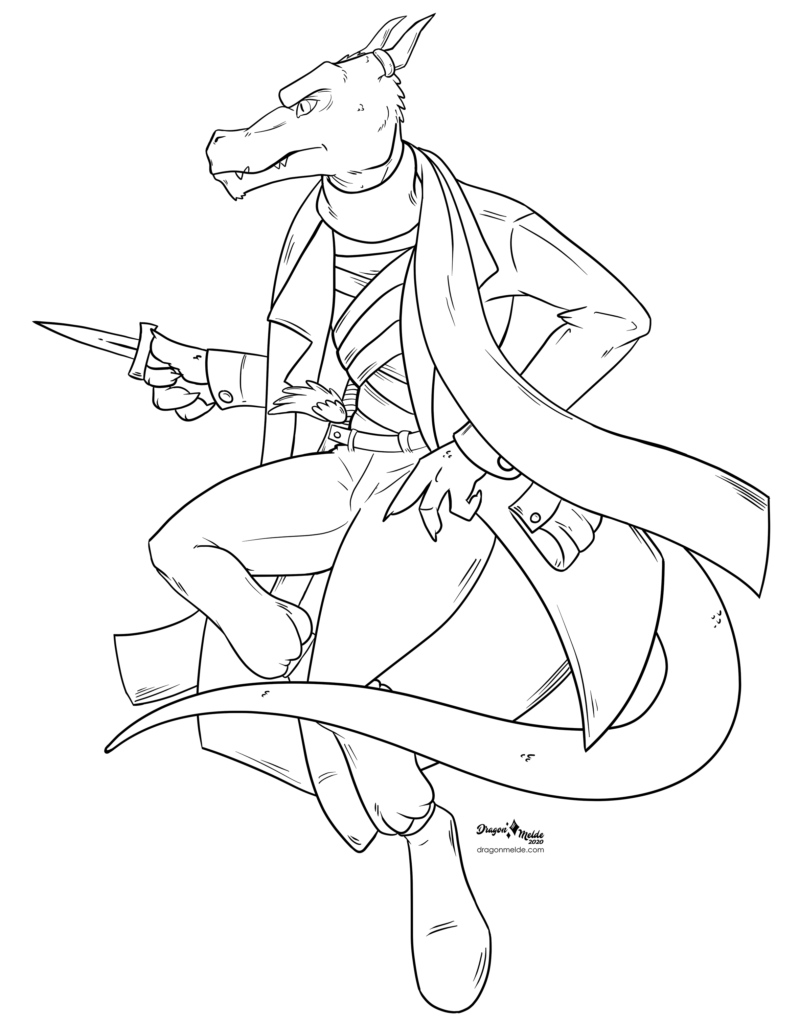 Inks
Starting at $125
Great for tattoos, coloring pages, or just because you like the stark contrast of black and white.
*Tattoo commissions are for solo tattoos. I am NOT a tattoo artist and cannot work with a pre-existing tattoo. I heavily recommend you speak with an experienced tattoo artist before commissioning me for custom tattoo art
+ $110 Each additional character
No Backgrounds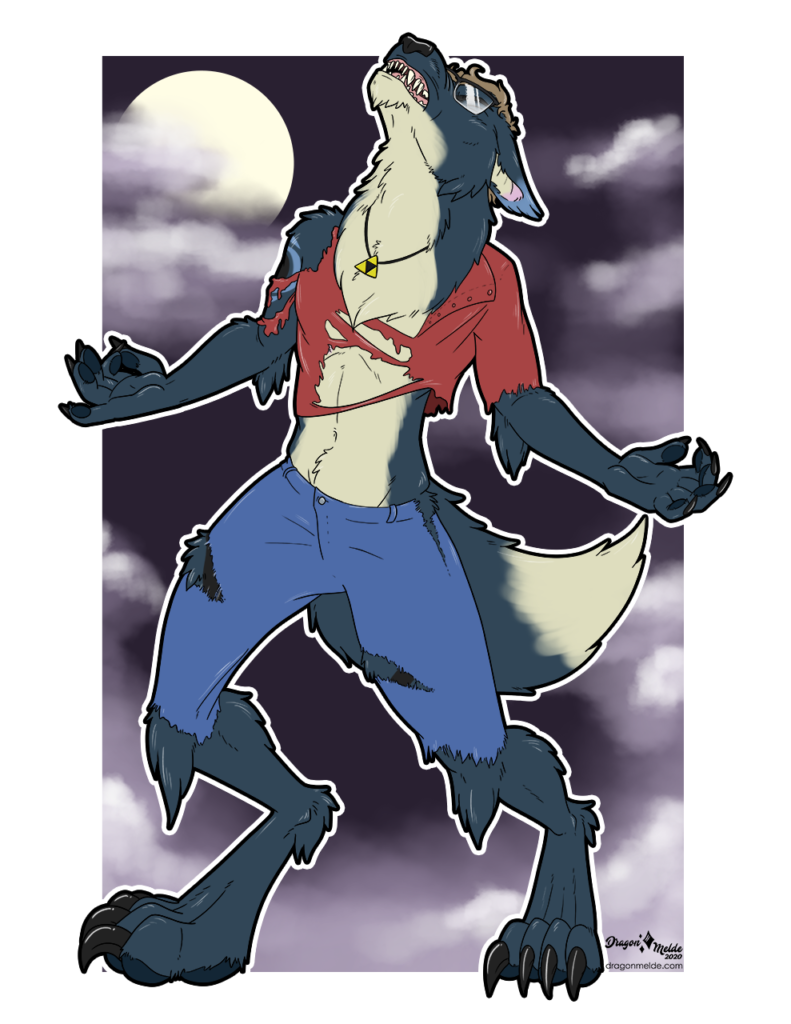 Flat Color
Starting at $150
A bold option for those on a budget. Includes patterned mini background.
+ $135 Each additional character
+ Illustrated backgrounds start at $100 and increase with level of detail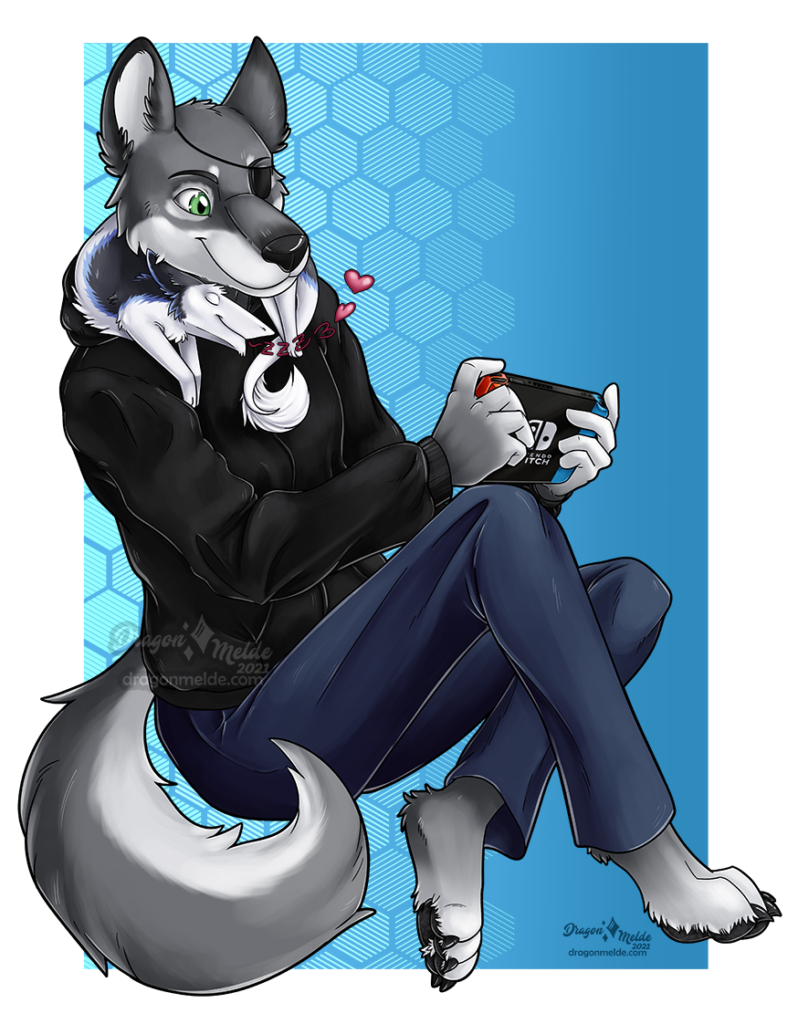 Shaded Color
Starting at $210
The art that I am most known for. Beautiful, vivid colors and bold shading.

Includes patterned mini background.
+ $200 Each additional character
+ Illustrated backgrounds/scenes start at $225 and increase with level of detail
All badges are between 4×4″ and 6×6″ at 300dpi
The traditional media options are done on cardstock with a scrapbook paper backing. They may include: Copic markers, colored pencils, ink pens, gel pens, etc
Digital badges do NOT include printing and shipping. Add it for $5.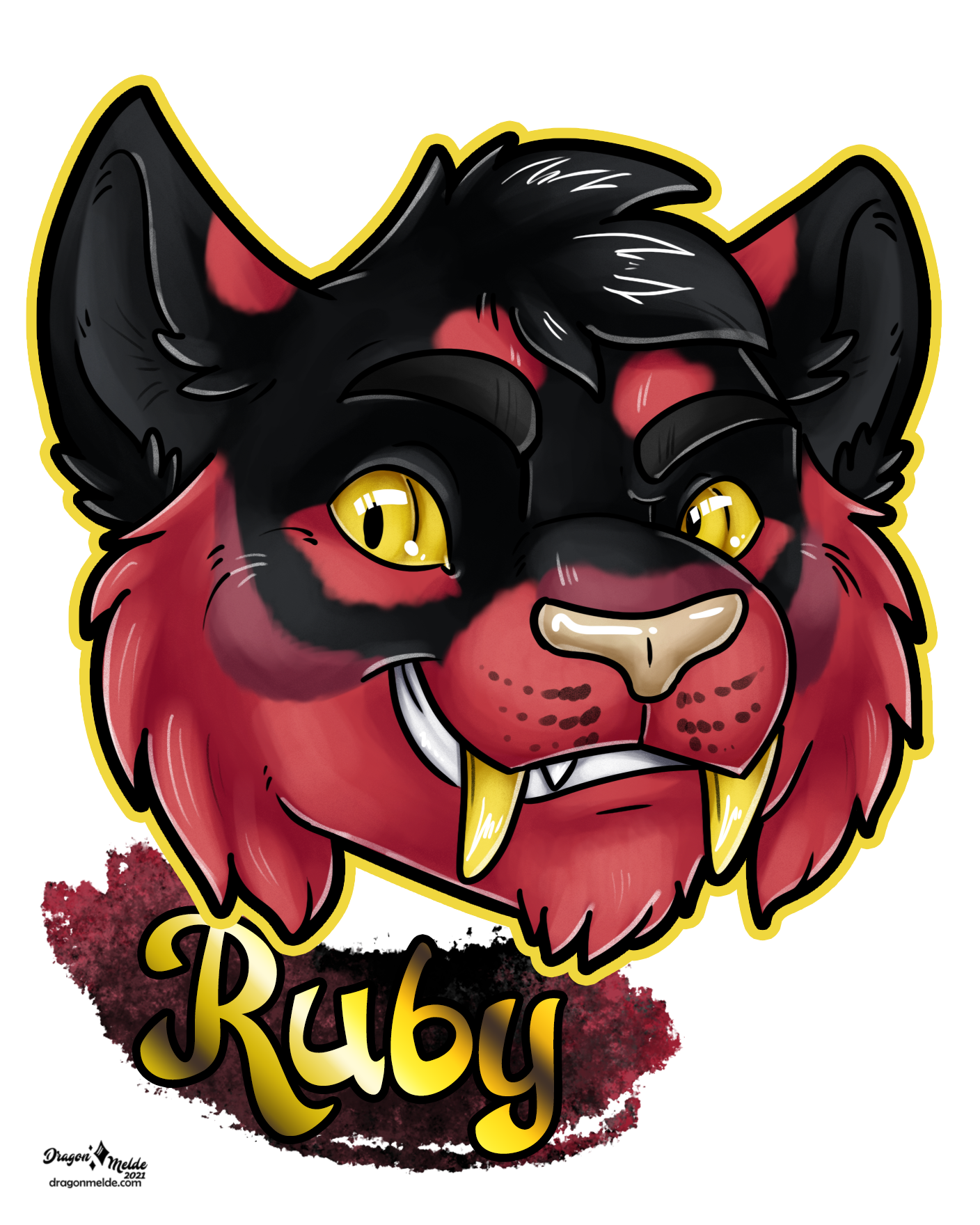 Headshot
Starting at $80 for Shaded Color
$65 for Flat Color
Just a floating head! The cheapest option, great for those who are new to the fandom or don't have a complete character design.
These also make great icons! I can switch out the name for a background for no additional cost!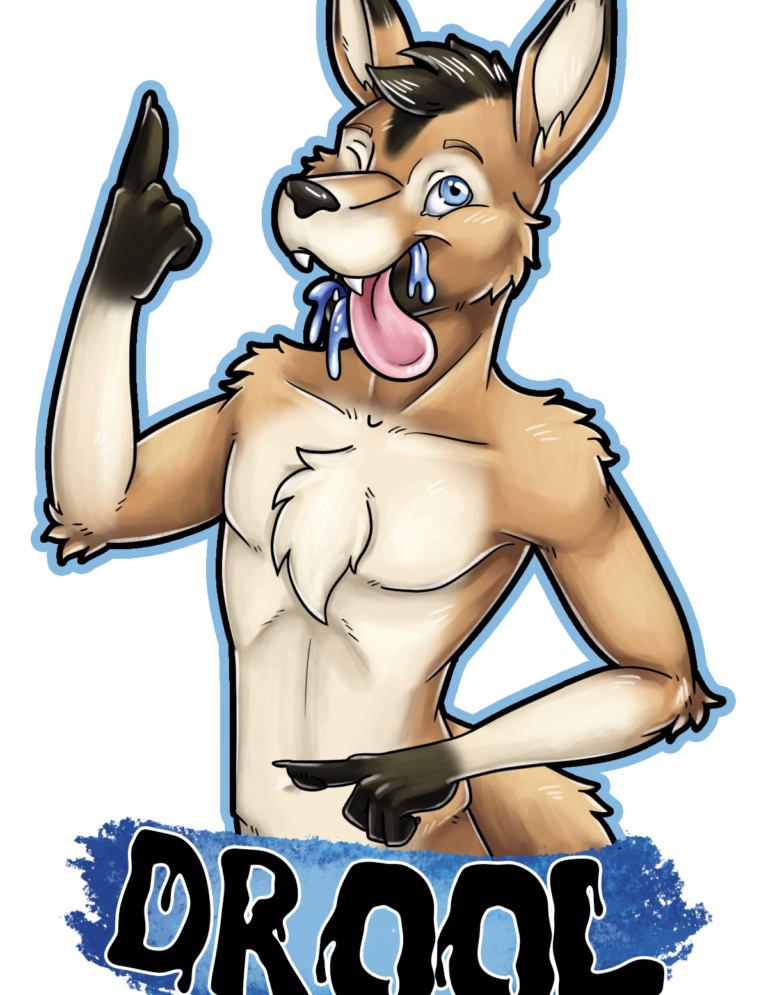 Waist-Up
Starting at $110 for Shaded Color
$75 for Flat Color
The most expressive option! Includes the full upper body that allows for a wide range of expressions and poses. Does not include the tail in most cases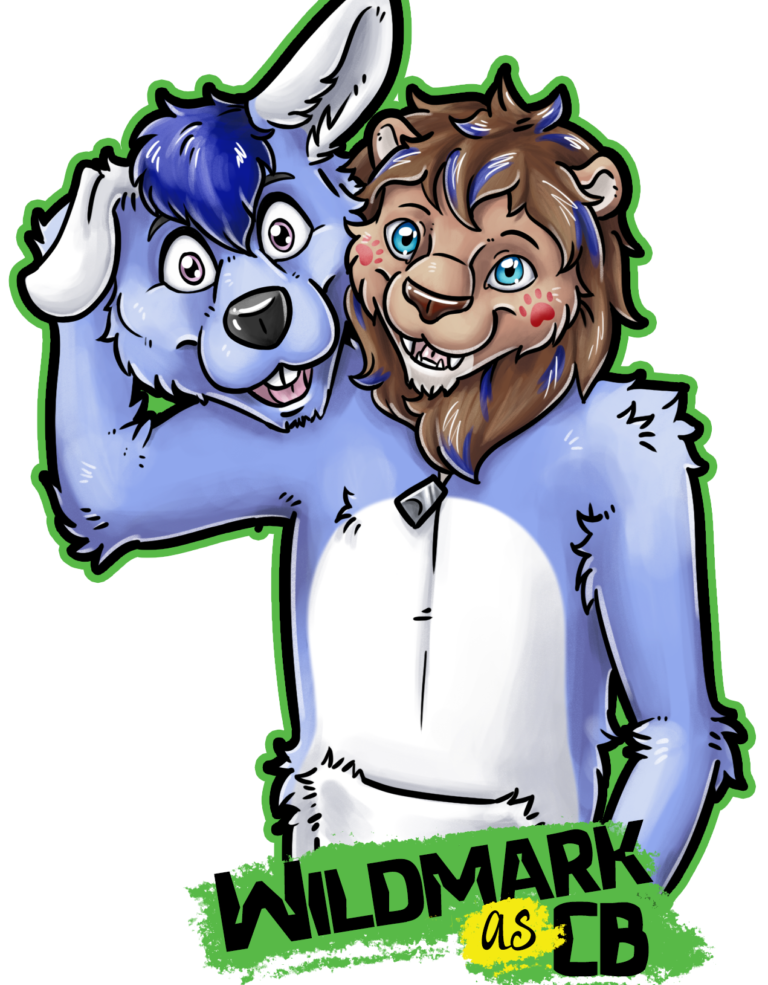 "Ruin the Magic"
Starting at $135 for Shaded Color
$ 100 for Flat Color
Do you have multiple fursona disorder? Did you buy that premade fursuit but now no one knows who you are when you wear it? Do you just want to cosplay your favorite popular character? This is the badge for you!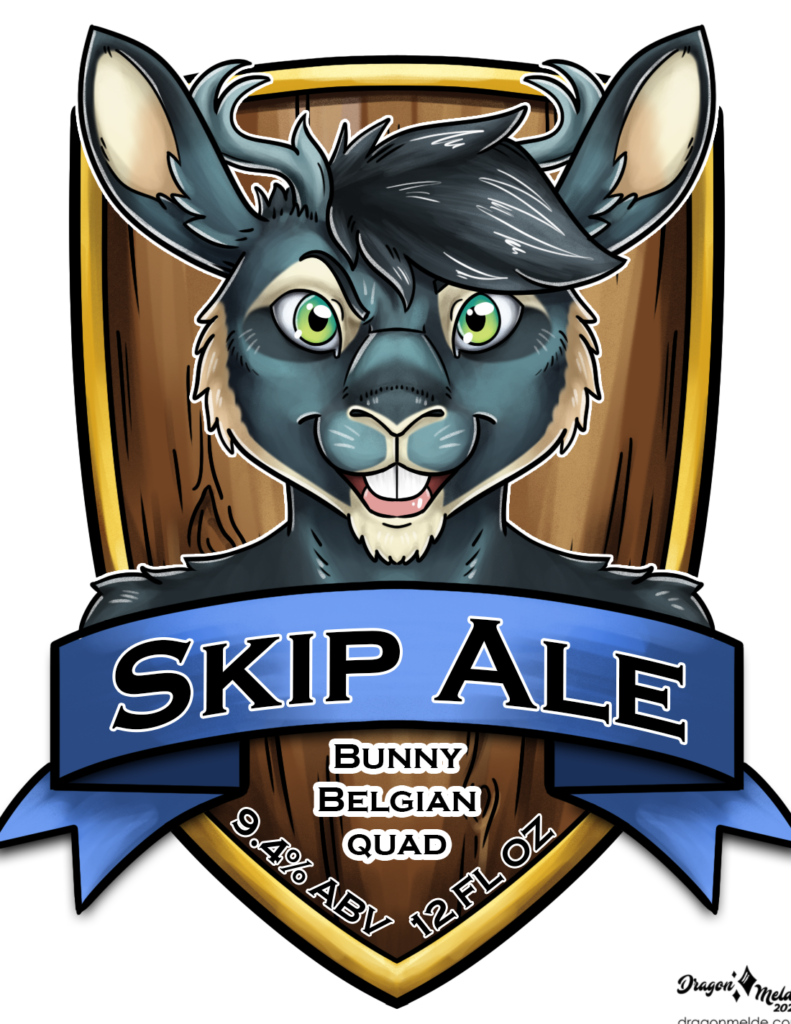 Beer Label Badge
$75
Great for my fellow craft beer lovers!
Also perfect for you bourbon and whiskey fans!
Your choice of beer (or spirit) style and ABV!
Available for a limited time!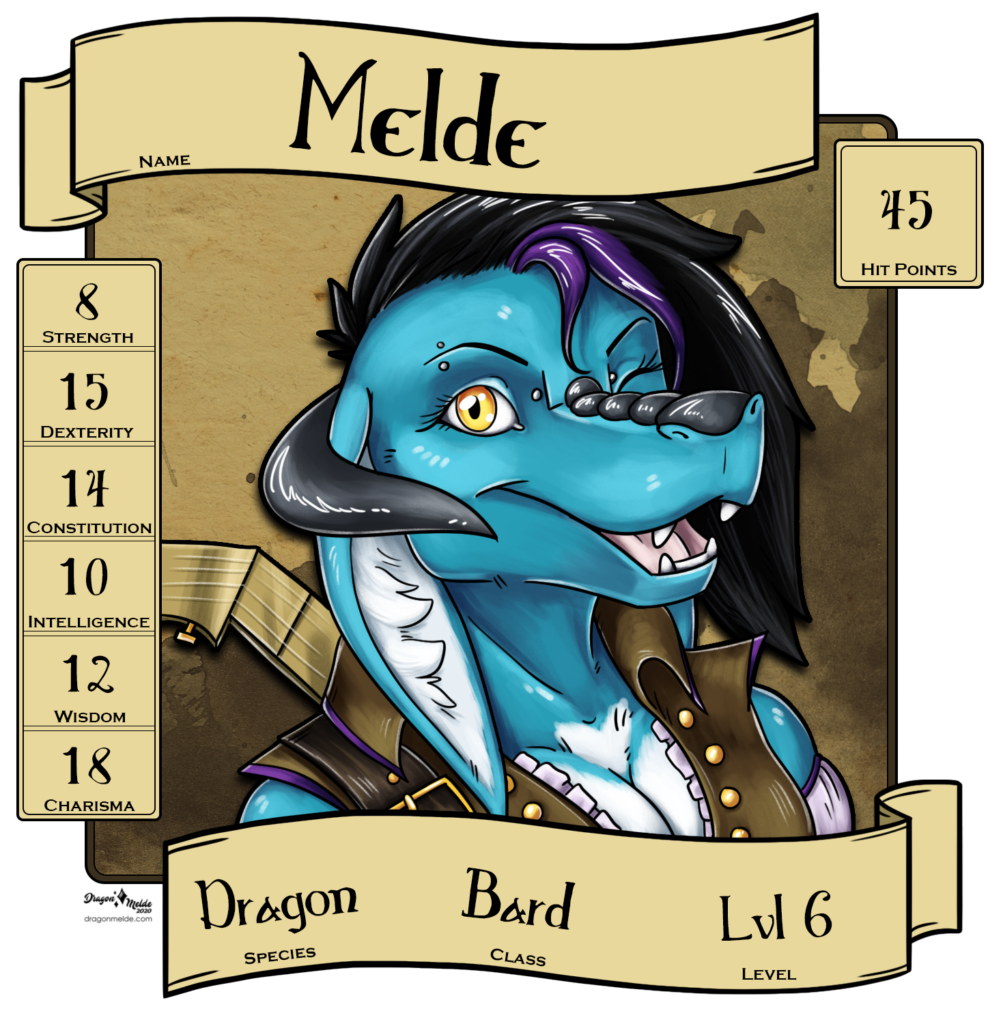 Character Sheet Badge
$95
Show off your stats to all of your friends!
Your choice of Class, Stats, and HP.
Available for a limited time!
All reference sheets are digital media, at least 8.5×11″ at 600dpi
You will receive the full-sized file, a smaller version for use online, and a printer-friendly version with a white background.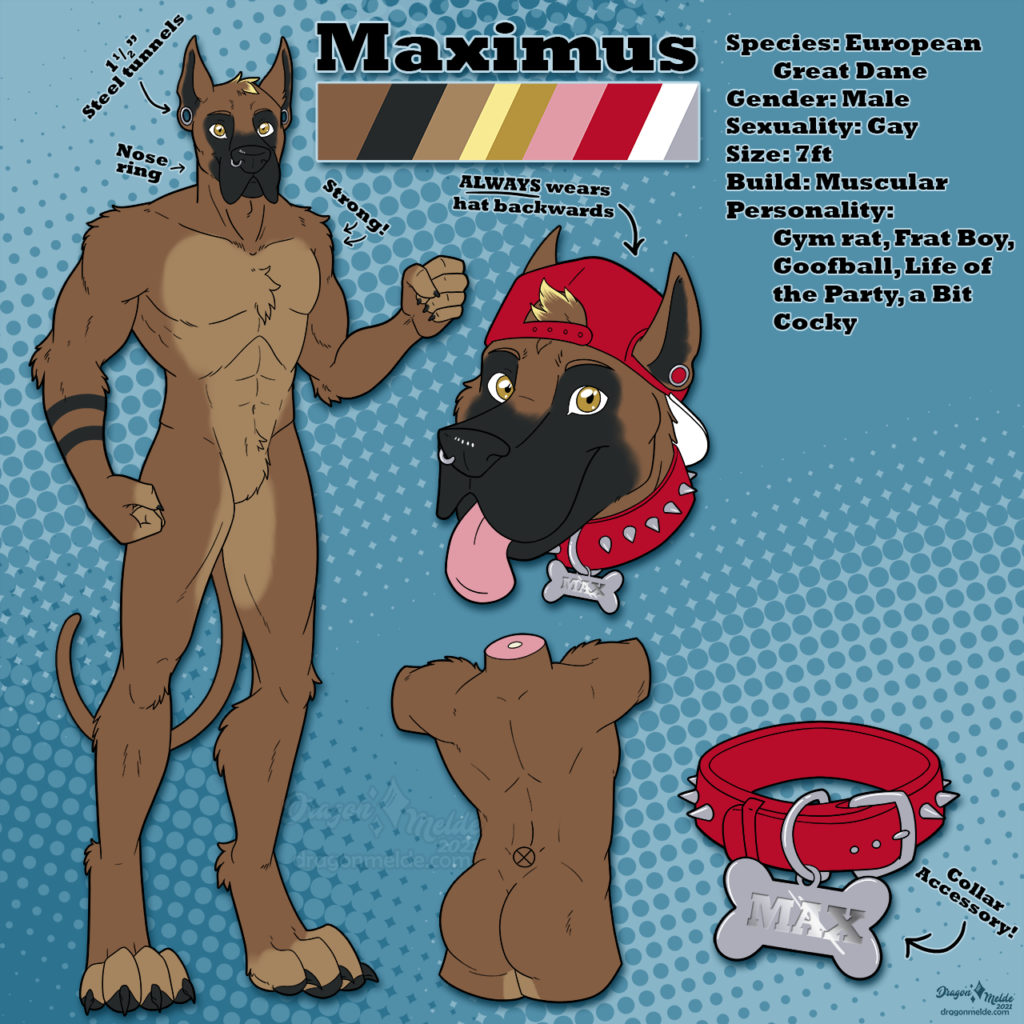 Standard Flat Color Reference Sheet
Starting at $160
I AM CURRENTLY NOT ACCEPTING REFERENCE SHEET COMMISSIONS
The minimal expected from most artists if you want to commission them for future art.
Includes:
Front View
Back Torso View
One Headshot
General Descriptions
Color Swatches
Your choice of

a) close-up of a body part
b) close-up of a marking
c) one accessory
Add-ons:
+ $80 Each additional body angle or pose
+ $100 Clothing Reference
+ $50 Each additional headshot
+ $40 Each additional close-up or accessory
+ $20 Edits to make ref BOTH clean and NSFW (includes one or the other)
+ $80 Shading (includes flat color versions)
Fine art pieces are more free-form, so I will take more artistic liberty when it comes to specifications.
However, you will still see the sketch for approval before I begin painting or inking.
Fine art pieces take longer than regular commissions. Please expect AT LEAST a 2 month wait, regardless of my queue.
Shipping is NOT included in the price. I will contact you after completion to discuss shipping costs or at-con pick-up.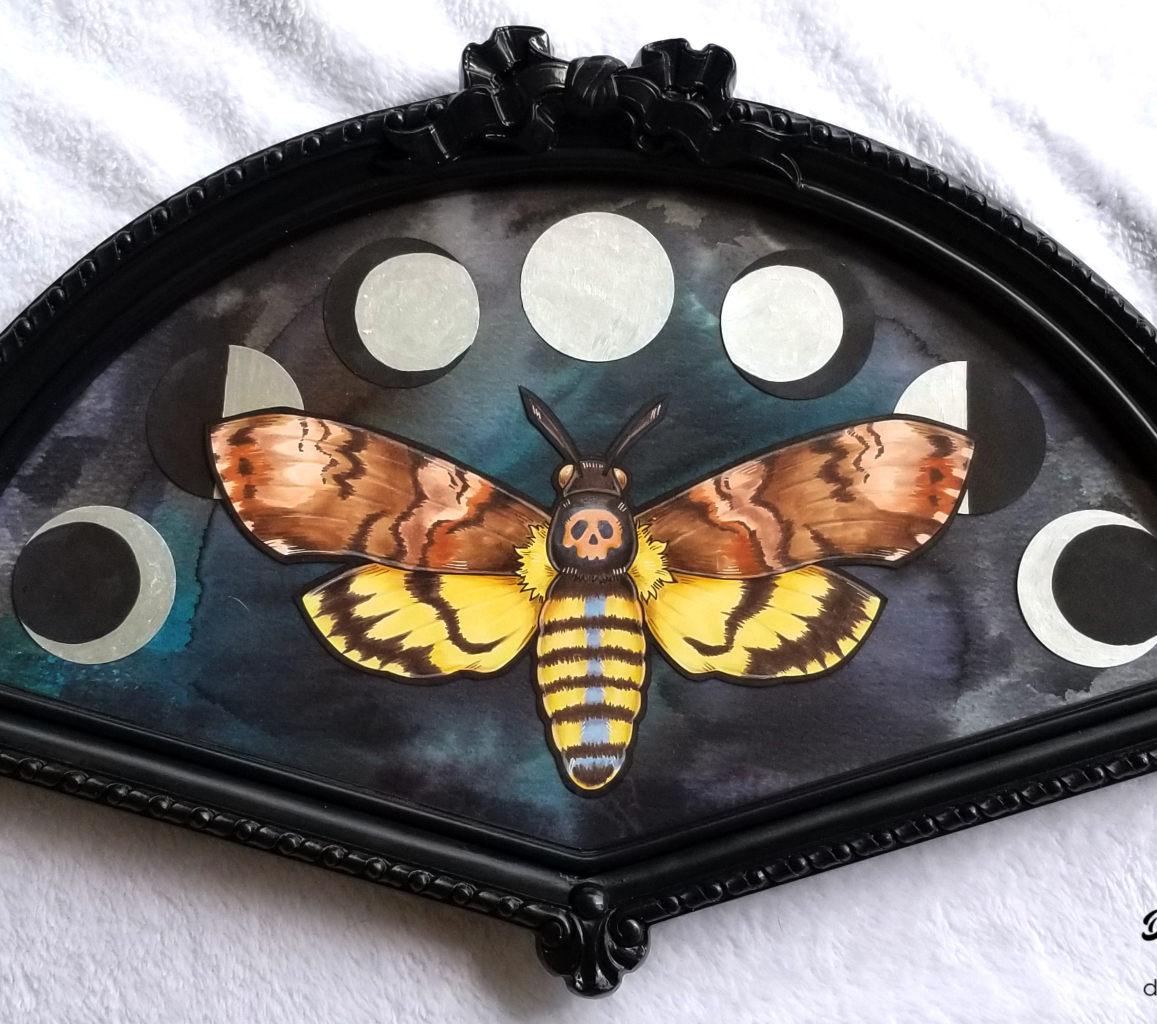 Mixed Media "Pop Out"
Price dependent on size
My favorite kind of traditional media art to do! For these, I think bones, insects, and other natural or "witchy" themes work best, but I am comfortable with a wide range of subjects including fursonas. 
Pop-out Illustrations include a frame. Most are up-cycled and chosen to fit your specific piece. Please ask if you have a frame in mind.
Pricing generally follows this math:
$15 per inch on the longest side of the frame
+$40 per detailed "pop-out" or die-cut piece
+$10 for each simple piece
The Deaths Head Moth example to the left is a $320 commission.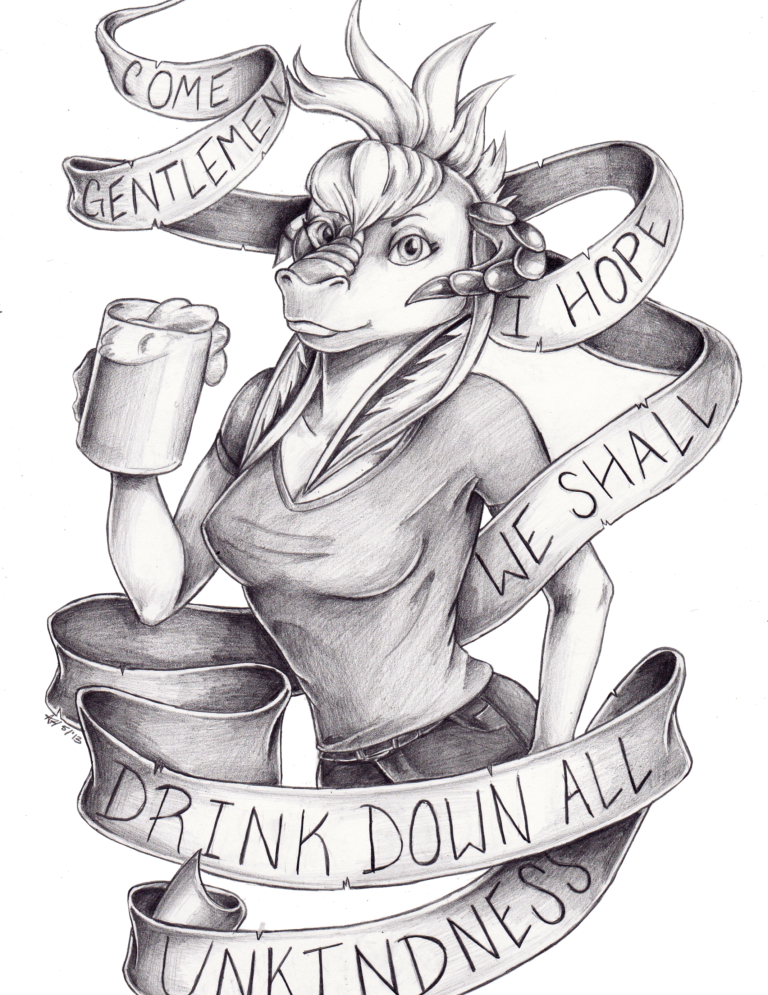 Graphite Illustrations
Starting at $155 for 8.5×11″
These are NOT sketches. These are fully-rendered graphite illustrations that bring your design to life in velvety-textured greyscale. Unlike prints and markers, graphite will not fade with age, so you can enjoy your art for years to come.
(outdated example image)
+ $135 Each additional character
+ Backgrounds start at $140 and increase with level of detail
+ Please inquire about larger or smaller sized illustration pricing
For use on the Telegram chat program. These are not physical stickers.
You will receive the link to your telegram sticker pack and the telegram-sized files for each design.
Complex Characters may incur and additional fee.
Stickers are all minimally cell-shaded. I do not do full shaded or full body stickers.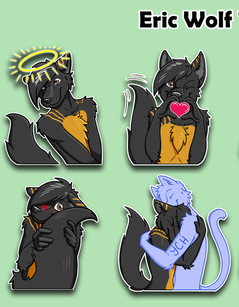 Basic Sticker Pack
Starting at $195
I AM CURRENTLY NOT ACCEPTING TELEGRAM STICKER COMMISSIONS
Express yourself as yourself!
The Basic Pack includes: 3 headshots and 2 busts. AND up to two minor changes to make a new sticker out of an existing one.
+ $40 Each Additional Headshot
+ $50 Each Additional Bust
+ $70 Each Additional Waist-up
+ 50% of the cost of the sticker for a second "YCH/YOU" character
+ 100% of the cost of the sticker for a second regular character
Any custom good will take AT LEAST 2 months to arrive to you AFTER the art is completed.
Includes shipping to you.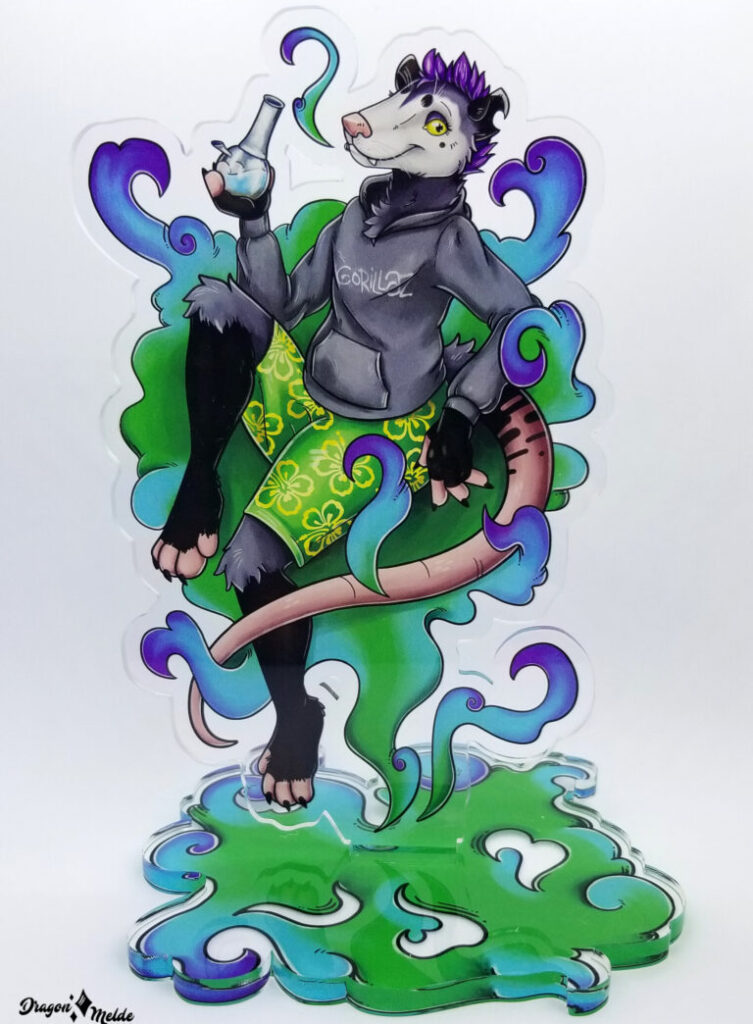 Acrylic Standees
Starting at $290
You know you love those sexy anime figures! Now you can get your own character to sit on your desk and judge you when you play Solitaire instead of working.
Includes: 4×6″ double-sided standee with a 4×4″ basic shape base.
+ $40 Simple Illustrated Base (hand-drawn elements)
+ $80+ Detailed Illustrated Base (price may increase depending on level of detail)
+ $200 Additional Character (when possible)
+ I can add additional "uprights." Ask for pricing.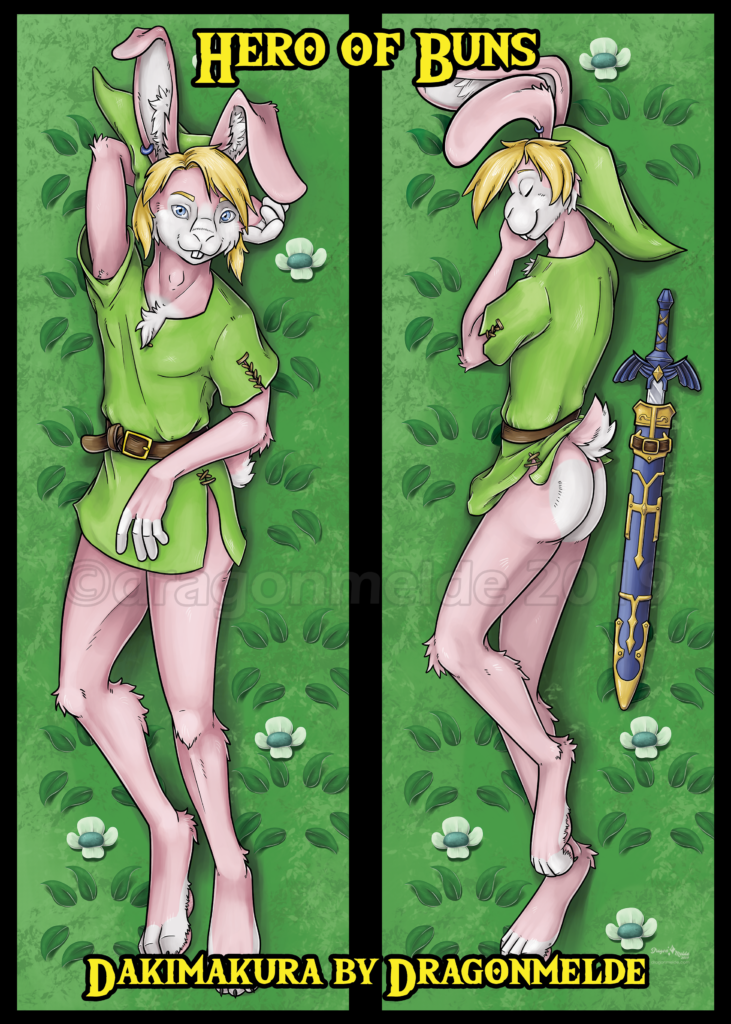 Body Pillow Covers/Dakimakura
Cost of art + Cost of production
Snuggle up with yourself!
A standard body pillow cover: fits a 20×60 inch body pillow (not included)
 Pricing may vary. Please ask about current body pillow cover prices.
Can include unique art on each side, or the same art
Single Character ONLY. (can have a different character on each side, but only one per side)